Assisting Adults with a Range of Concerns
14 Douro Place, West Perth WA 6005
Stress and Related Conditions

Depression and Rumination

Anxiety – Social, Panic, OCD, Generalized, & Health

Excessive Worry and Difficulty Relaxing

Poor Sleep and Insomnia

Mindfulness
Intolerance of Uncertainty and Procrastination

Adjustment to Challenging Life Circumstances

Mindfulness for Resilience and Wellbeing

Mindfulness for Stress Reduction

Mindfulness for Depression Prevention (MBCT)

Fears and Phobias
Clinical Psychology in West Perth
I am an experienced clinical psychologist registered with the Psychology Board of Australia (Practice Endorsement – Clinical Psychology). My practice is centrally located in West Perth at Douro House, close to the city centre and public transport. I provide both psychological assessment and treatment services for adults with a range of presenting issues. I am registered to provide clinical psychology services under Medicare and most private health insurance companies.
Therapy frameworks I employ include: cognitive-behaviour therapy (CBT), metacognitive therapy, acceptance and commitment therapy (ACT), mindfulness-based cognitive therapy (MBCT), and schema therapy. I also have experience and training in mindfulness for stress reduction, emotional resilience, and burnout prevention, as well as the delivery of mindfulness programs to the general public, health professionals, and corporate entities.
Assessment and individual psychotherapy for adults experiencing problems involving stress, sleep, anxiety, depression, adjustment issues.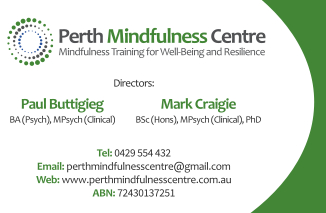 Perth Mindfulness Centre has now closed as a business entity. However, please feel free to contact me to discuss your mindfulness, resilience, and well-being training needs. I am still running programs in the workplace for resilience and stress prevention.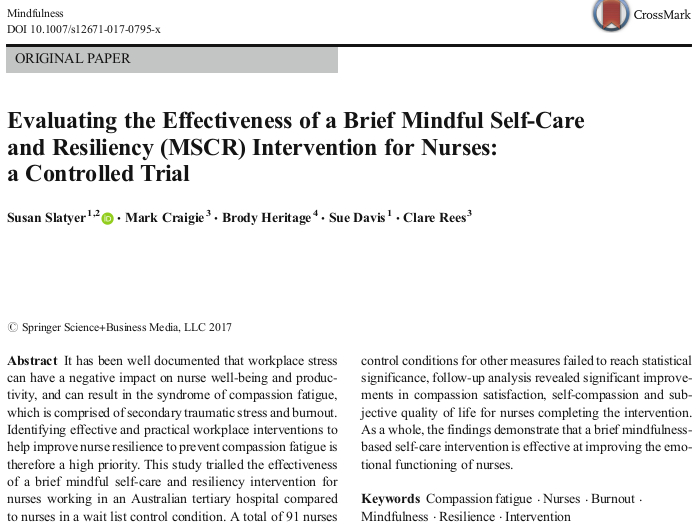 A new mindfulness and positive psychology program for resilience and wellbeing. Informed by the latest scientific perspectives on resilience and wellbeing, and empirically supported research.
Dr Mark Craigie, Clinical Psychologist
14 Douro Place
West Perth, WA 6005