Assisting Adults with a Range of Concerns
14 Douro Place, West Perth WA 6005
Stress and Related Conditions

Depression and Rumination

Anxiety – Social, Panic, OCD, Generalized, & Health

Excessive Worry and Difficulty Relaxing

Poor Sleep and Insomnia

Mindfulness for Coping with Tinnitus

Low Self-Esteem and Confidence

Mindfulness for Pain Management
Intolerance of Uncertainty and Procrastination

Adjustment to Challenging Life Circumstances

Mindfulness for Resilience and Wellbeing

Relationship and Related issues

Mindfulness for Depression Prevention (MBCT)

Burnout, Work-Stress, and Compassion Fatigue

Fears and Phobias

Mindfulness for Smoking Cessation
Clinical Psychology in West Perth
I am an experienced clinical psychologist registered with the Psychology Board of Australia (Practice Endorsement – Clinical Psychology). My practice is centrally located in West Perth at Douro House, close to the city centre and public transport. I provide both psychological assessment and treatment services for adults with a range of presenting issues. I am registered to provide clinical psychology services under Medicare and most private health insurance companies. I am also a director of Perth Mindfulness Centre.
Therapy frameworks I employ include: cognitive-behaviour therapy (CBT), metacognitive therapy, acceptance and commitment therapy (ACT), mindfulness-based cognitive therapy (MBCT), and schema therapy. I also specialise in mindfulness for stress reduction, emotional resilience, and burnout prevention, as well as the delivery of specialised mindfulness programs to the general public, health professionals, and corporate entities.
Assessment and individual psychotherapy for adults experiencing problems involving stress, sleep, anxiety, depression, adjustment or relationship issues.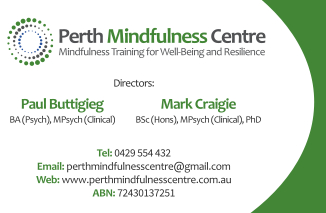 Mindfulness courses and workshops for relaxation, mindful awareness, resilience, and well-being. Non-clinical programs for the general public wishing to learn how to integrate mindfulness into daily life.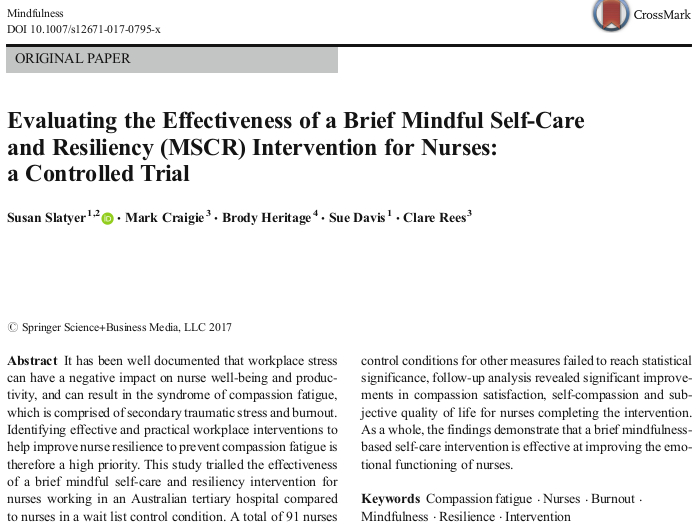 Evidence-based mindfulness program for preventing burnout and compassion fatigue in health professionals. Running for nurses at Sir Charles Gairdner Hospital in 2018.
Dr Mark Craigie, Clinical Psychologist
14 Douro Place
West Perth, WA 6005